July 26, 2023
How to Choose a Game Art Studio for Hire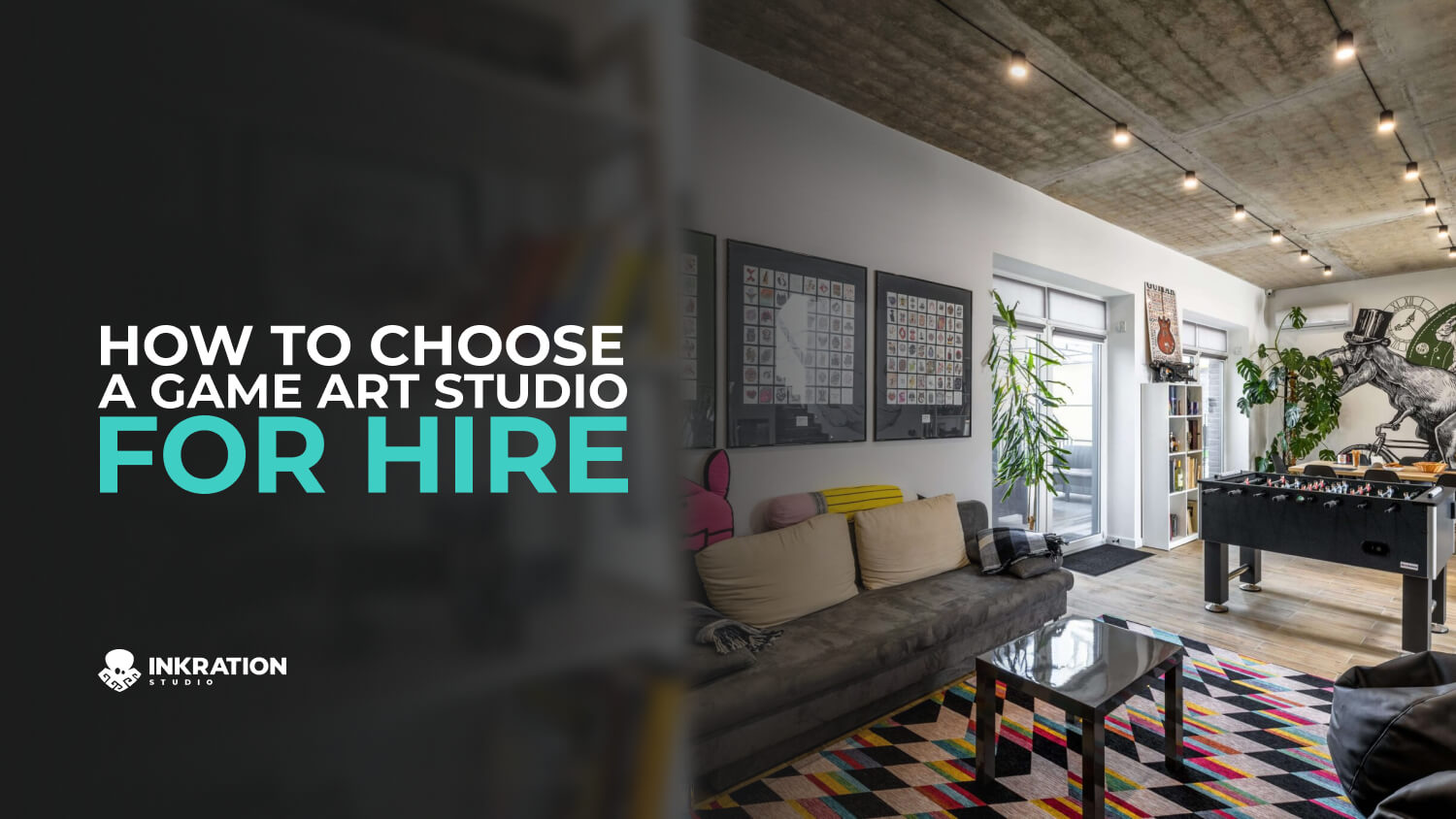 Gaming industry is a booming field. By 2027, there ought to be 2,776.9 million users in the video games market. Creating high-quality game art will capture players' attention and place your video game among the top ones. How to get compelling graphics for a game? The answer is simple – hire a game art studio.
Delegating game art production is suitable for everyone. For corporations, it helps minimize costs and attract the best professionals from all over the globe.
In this article, we will talk about the peculiarities of choosing game art studios for hire, when it's time to start looking for one, and in which cases a game art studio is better than a freelance artist.
Let's get started.
When Should You Hire a Game Art Studio?
First and foremost, you should determine whether you require the services of the vendor. Starting the search for a game art company for hire is best in such cases:
1. Complex Art Requirements
If your game project demands intricate and visually stunning artwork, hiring a game art studio becomes essential. Complex art styles, detailed character designs, immersive environments, and intricate animations often require the expertise and resources that only a specialized studio can provide. They have the necessary skills, experience, and artistic vision to bring your game to life with stunning visuals.
2. Limited Internal Resources
When your in-house team lacks the necessary artistic capabilities or is already overloaded with other responsibilities, finding a game art studio for hire can be a smart decision. It allows you to tap into a dedicated team of skilled artists, animators, and designers who specialize in game art production. This ensures that your project receives the attention and expertise it deserves while freeing up your internal team to focus on other crucial aspects of game development.
3. Required Expertise in Specific Genres or Styles
Art studios often have vast expertise in both highly popular and rare game genres or artistic styles. If you are working on a particular genre, such as fantasy, sci-fi, or horror, or if you have a specific art style in mind, collaborating with a studio that specializes in that area can significantly enhance the quality and authenticity of your game's visual elements. Their understanding of genre-specific aesthetics and design principles can elevate the overall player experience.
4. Access to Specialized Tools and Technology
Art studios are equipped with the latest software tools and technologies specifically tailored for game development. If you require advanced 3D modeling, high-quality texturing, realistic animations, or other specialized visual effects, partnering with the right studio can provide access to cutting-edge tools and techniques that may not be available in-house.

How to Hire a Good Game Art Studio?
Picking a good game art studio for hire is no easy task. It requires a lot of covered points, like the vendor's credibility, size, expertise, price, artwork, etc. How and where to hire a good game art studio? Here're some tips to make your search easier:
Define Your Project Requirements
Clearly define your project requirements, including the game genre, art style, level of detail, platform, and any specific technical considerations. This will help you hire a game art studio that specializes in your specific needs and has the expertise to bring your vision to life.
Decide on a Budget
Before beginning your search for hiring a game art company, determine a realistic budget for your project. Having a clear understanding of your financial constraints will help you evaluate top studios that align with your budget and avoid wasting time on options that are financially impractical.
Research and Review Portfolios
Conduct thorough research and review the portfolios of different art studios. Check Behance and ArtStation for visuals of the selected studio. Look for the quality and diversity of their work, ensuring that their artistic style aligns with your project's vision. Pay attention to the details and level of polish in their artwork, as well as their ability to create assets relevant to your game genre.
Check for Relevant Experience
When searching for a professional game art studio for hire, it's crucial to consider their experience in the gaming industry and expertise in specific game genres or art styles. Look for studios that have worked on similar projects or have a proven track record in delivering high-quality game art. Experience in your desired platform(s) is also important to ensure they can meet the technical requirements.
Assess Technical Proficiency
Evaluate the technical skills of the art studio. This includes their proficiency in software tools and technologies commonly used in game development, such as 3D modeling, texturing, animation, and rendering. Additionally, inquire about their ability to optimize assets for different platforms and resolutions.
Request a Proposal
Once you have shortlisted a few good game art studios for hire, request detailed proposals that outline their approach, timelines, pricing, and deliverables. Compare and evaluate the proposals based on your project requirements and budget considerations.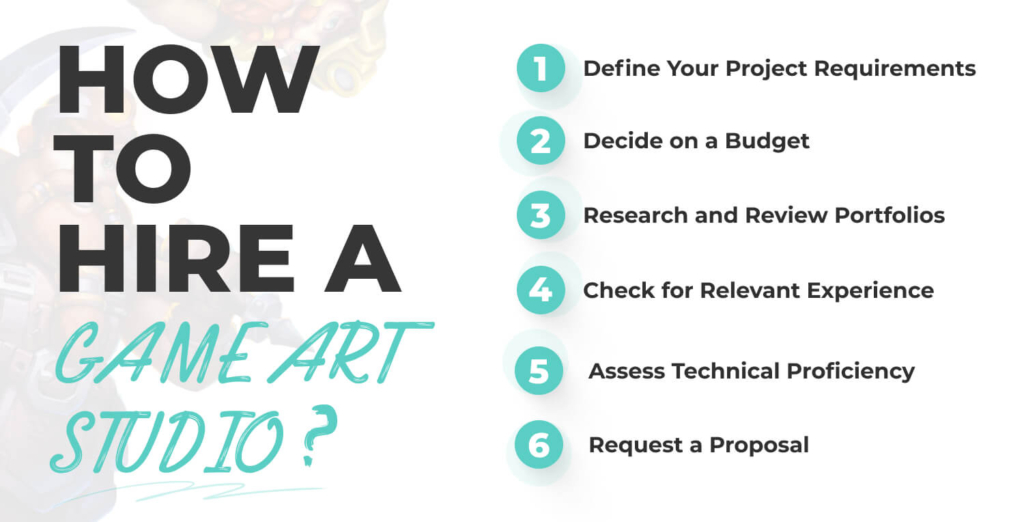 Why Choose Inkration Game Art Studio for Hire?
When it comes to singling out a game art company for hire, it's essential to find a partner that can bring your creative vision to life while ensuring the highest quality standards. Inkration studio is the right choice for your game development venture.
Here's why:
Skilled team. Inkration studio boasts a professional team of 2D artists, animators, and designers, ensuring exceptional results for your gaming project. With more than 50 experts with various profiles, we can cover the whole art production process for you, from creating concepts to launch and robust post-release support. Our semi-realism, AAA, and casual games have already captured the hearts of millions of players worldwide.

Strong industry knowledge. With a deep understanding of the gaming industry, Inkration stays up-to-date with trends and advancements, delivering artwork that meets evolving standards. Our art studio has more than nine years of experience creating art for gaming industry giants like Playtika, 1X2 Gaming, PushGaming, and others.

High-quality game art. We use modern tools and technologies like Spine 2D and After Effects to deliver stunning visuals that enhance the gaming experience. Our art team produces art in various styles, from realistic to stylized, making your choice limitless. Hiring our game art studio guarantees high-quality, eye-catching graphics for your game.
What Types of Game Artists Can You Hire From Our Studio?
All in all, choosing a game art studio for hire is a highly beneficial option for you. Opting for game art services from Inkration will enhance your game's success even more.
2D Artists
Their responsibilities encompass creating 2D art assets, such as characters, environments, props, and NFTs, all while upholding the project's artistic direction and meeting specified time frames and technical constraints. Our skilled 2D artists ensure consistency across the entire art production, maintaining a cohesive and visually appealing experience for your game.
Concept Artists
Our Concept artists play a vital role in establishing the visual direction of your game. Working closely with the 2D art team, Concept artists create captivating concepts that set your game's overall look and feel. Through skillful sketches, paintings, and other visual media, they effectively communicate their ideas, ensuring that the concept art aligns seamlessly with your project's goals and vision.
Animators
Our 2D animators infuse life into the game world by creating captivating character and object animations. Through their expertise in working with keyframes, rigs, and motion capture data, our animation artists bring movement, personality, and realism to characters, creatures, and objects. With their skillful craftsmanship, they ensure that every animation contributes to the immersive experience of your game.
Technical Artists
In our studio, technical artists are integral to the smooth functioning of your game's visuals within the game engine. They possess a deep understanding of optimization techniques, ensuring that your artwork performs optimally without compromising visual quality.
UI/UX Designers
Inkration's UI/UX designers are responsible for creating intuitive and visually appealing user interfaces that enhance the overall user experience. They work on designing and implementing interface elements, ensuring usability, functionality, and aesthetic consistency throughout your game.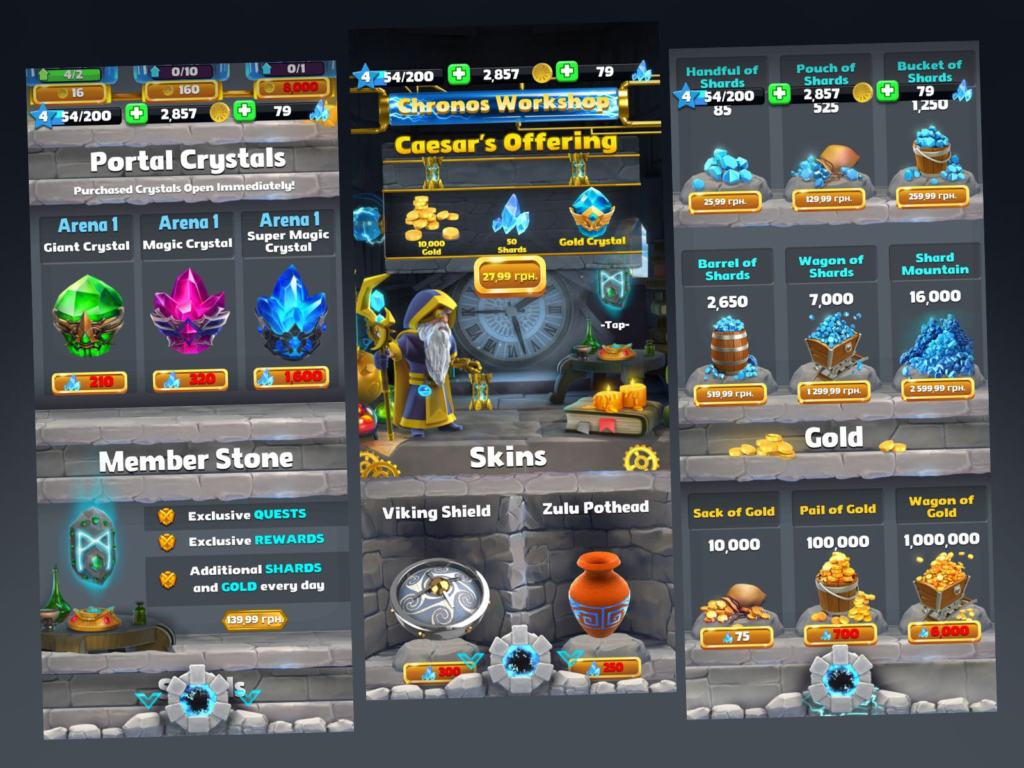 Concluding Thoughts
Choosing our game art studio for hire will provide you with a team that provides high-quality art for a variety of game genres. Get in touch to discuss your project and put your game in this year's top 10!
More Article